Close relationships,
agile growth
BrevoPlus gives you the flexibility to build brilliant customer experiences across email, SMS, WhatsApp, web push, chat, and mobile wallet.
Trusted by 2,000+ clients worldwide
Tailor your success with BrevoPlus
Customize your stack with BrevoPlus. Stay agile with features tailored to your needs and save time by leaving the clutter behind.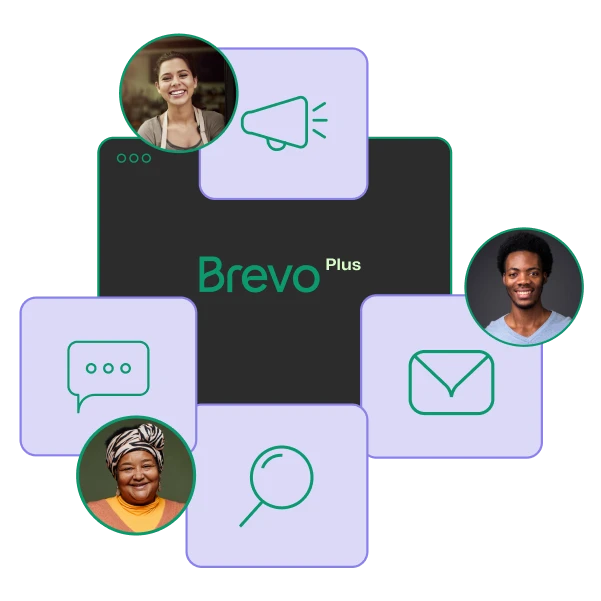 Create closer connections, at scale
Our integrated and intuitive platform helps companies build lasting relationships with customers.
3,392 reviews

1,591 reviews

1,606 reviews
Your tools for success
Benefit from tailored onboarding, a dedicated success manager, and specialized technical support to help you make the most of the BrevoPlus.
Tailored Onboarding
Get expert assistance for rapid deployment, optimized deliverability, and integrating the rest of your stack. Define a strategy for optimizing performance from the get-go.
Shared Success
Your dedicated success manager is there to give guidance in defining objectives and reaching your goals. Consider them your go-to expert advisor on all things Brevo.
Technical Support
Count on our team of technical experts to resolve any issues you have. No matter how big or small, any hurdle is addressed individually by our specialized team.
Brevo connects to the tools you already use
Custom-built or standard, our integrations make sure your websites, CRM, and apps are all on the same page.
Closer connections, more conversions
Boost your business with BrevoPlus. Tailor-made tools give you the flexibility to build customer relationships and drive growth.